Whether it's for your holiday or business, you must ensure you're up to date with all the latest currency tricks and tips before exchanging your money.
You don't want to be taken advantage of when changing money in Bali.
Keeping up with the latest tricks and tips will help you prepare for what's coming.
With our breakdown of the currency exchange market in Bali, you'll be able to learn what options are available, what to avoid, and where not to change money.
So make sure you're prepared before exchanging any money in Bali!
What currency do they use in Bali?
Indonesia's currency is called the Indonesian Rupiah (IDR). The Indonesian Rupiah is the only legitimate currency that can be used in Bali.
Changing money in Bali: What are my options?
There are a few ways to change your money in Bali.
1. Money changers
You can quickly get Indonesian Rupiah by changing your cash at money changers in Bali, almost everywhere.
However, finding a legitimate money changer with a reasonable exchange rate can be more challenging for anyone new to Bali.
Many blogs and other online articles about the problems and how to overcome them.
The pandemic has also resulted in the closure of many money changers or some of their branches. Hence, a tougher question is which ones are still doing business and can be trusted.
Read further to see how you can check.
2. Banks
You can also change your cash at most banks in Bali. The most popular Indonesian banks in Bali are BCA, BNI, Mandiri, BRI. However, the rates they offer are not very competitive.
The exchange rates are very similar to those offered by money changers at the airport terminal, which is usually not the best you can get.
Savvy travellers won't use banks as they prefer to get the best exchange rates.
3. ATMs
The other widely available choice is an ATM in Bali. You can get Indonesian Rupiah notes using a Visa, Mastercard, or other debit or credit card.
Unfortunately, though convenient, using an ATM in Bali usually attracts charges from your bank and the local bank and possibly poor exchange rates.
These may be best in an emergency but are generally to be avoided.
What makes a money changer an "authorised money changer" in Bali?
Bali is one of the provinces in Indonesia, and all financial companies are under the authority of the Indonesian National Bank (Bank Indonesia).
So how do you check if a money changer is licensed and authorised by Bank Indonesia and avoid shady and unregulated money changers?
Only change your cash with PVA Berizin members
The Indonesian monetary authorities accredit Bank Indonesia-authorised money changers as Pedagang Valuta Asing Berizin or PVA Berizin (English language: Authorised Money Changer).
PVA Berizin members must have the Bank Indonesia hologram and a PVA Berizin green shield logo displayed in their shop window. So look out for this sign!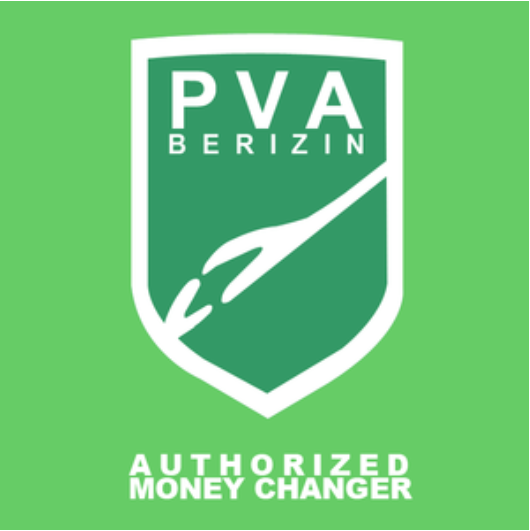 If there is no green shield logo and registration number, they are NOT authorised money changers and should be avoided.
(Image: Bottleoftravel.com)